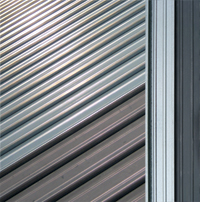 Formdeck300 comes available with a grey anti-glare coating. This coating is a water-based material that is applied on line during the production stage and dries within minutes.
The anti-glare coating is applied to the pans only of the FD300, this ensures that the chemical bond between the deck and the concrete is fully effective, and hence does not compromise the composite slab performance.
The non reflective coating reduces light reflection by more than 80% improving safety and on site working conditions.